Sacco and Vanzetti: A Century Later
AN ARMCHAIR TOUR OF SITES IN EASTERN MASSACHUSETTS RELATED TO SACCO AND VANZETTI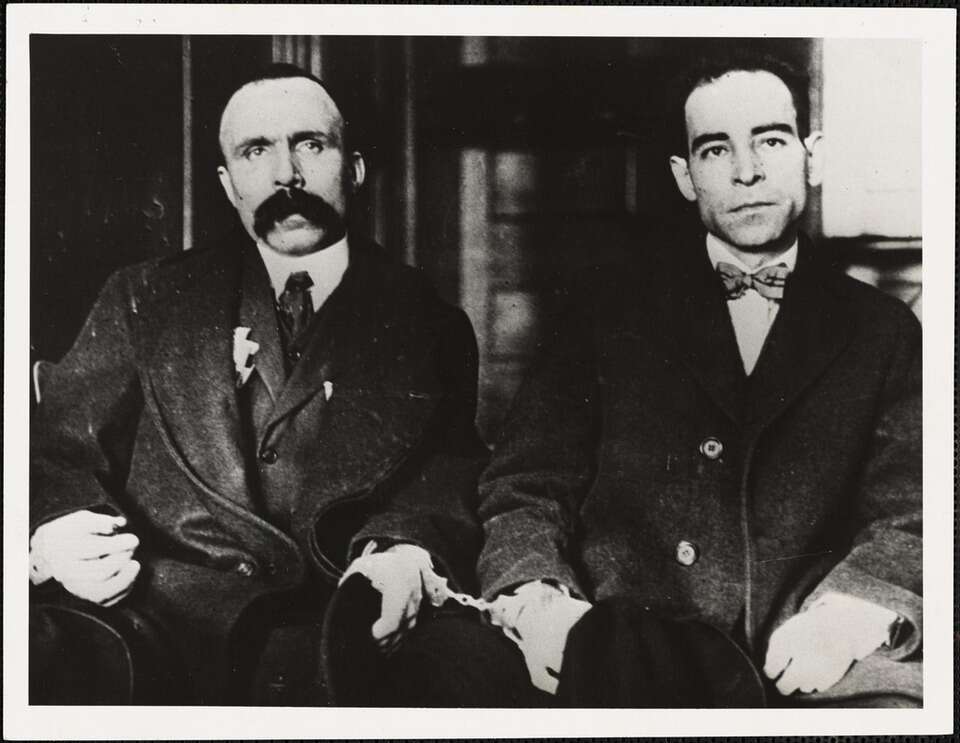 Americans like to celebrate that we are a "nation of immigrants" and defenders of civil liberties, but there are numerous instances throughout our history where we've failed to uphold these standards. One instance is the case of Nicola Sacco and Bartolomeo Vanzetti, Italian immigrants and anarchist activists who were tried, convicted, and executed for a crime they most likely did not commit. This month marks the 100th anniversary of the start of their case. Sacco and Vanzetti were arrested on May 5, 1920, on charges that they were involved in an April 15, 1920, armed robbery of a Braintree shoe factory that lead to the murders of two men.
The trial and conviction of these two men became a worldwide sensation. Many people protested that the evidence against Sacco and Vanzetti was weak and that they were actually tried for their immigrant status and political beliefs. Judge Webster Thayer, who presided over their trial, spoke openly of his disdain for foreigners and anarchists, and refused several motions for a new trial, even after another man named Celestino Medeiros confessed to the Braintree crimes in 1925. Despite worldwide protests, Sacco and Vanzetti were put to death in the electric chair on August 23, 1927.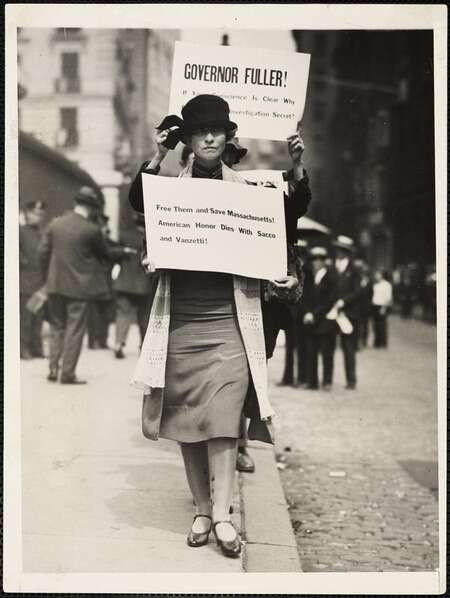 One hundred years later, the Sacco and Vanzetti case is remembered as a miscarriage of justice. The men were immortalized in songs by Ruth Crawford Seeger and Woody Guthrie, and poems by John Dos Passos, Carl Sandburg, Edna St. Vincent Millay and William Carlos Williams, as well as books, plays, an opera, and films. On the 50th anniversary of their execution in 1977, Massachusetts Governor Michael Dukakis declared Nicola Sacco and Bartolomeo Vanzetti Memorial Day. Dukakis declared that because their trial and conviction were unfairly conducted, "Any stigma and disgrace shall be forever removed from their names."
Nicola Sacco's home and 3-K Shoe Factory, Stoughton
At the time of his arrest, Sacco was living in a bungalow adjacent to the 3-K Shoe Factory where he worked. The site is now home to Re/Max Landmark Realty.
Bartolomeo Vanzetti house, 35 Cherry Street, Plymouth
Vanzetti lived in this house and worked as a fish peddler in Plymouth at the time of his arrest.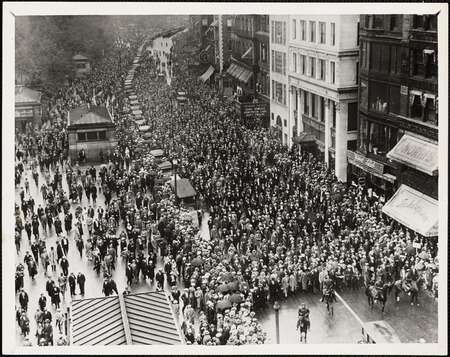 Slater and Morrill Shoe Company, Braintree (Pearl Plaza)
Paymaster Frederick Parmenter and security guard Alessandro Berardelli were transporting steel boxes with company payroll to the main Slater and Morrill factory when they were murdered by a gang of armed robbers on April 15, 1920. The shoe factory was closed in 1948, and the building demolished in 1975. Today the Pearl Plaza shopping center stands on the site. A memorial to the murdered men was placed at 1 French Avenue in Braintree in 2010.
West Bridgewater and Brockton
On May 5, 1920, Sacco and Vanzetti met with some colleagues at a garage in West Bridgewater where their friend Mario Buda had left his car for repair. The police already suspected that Buda was involved in the Braintree crime and that his car was a getaway car. The men found the garage locked and when they visited the house of the owner of the garage, Simon Johnson he advised them not to take the car because the plates were expired. Meanwhile, Johnson's wife called the police.
Sacco and Vanzetti left their friends and took a streetcar north on Elm Street to Brockton. Although the exact location is difficult to pinpoint, the police intercepted the streetcar just after crossing into Brockton, and arrested Sacco and Vanzetti as "suspicious characters."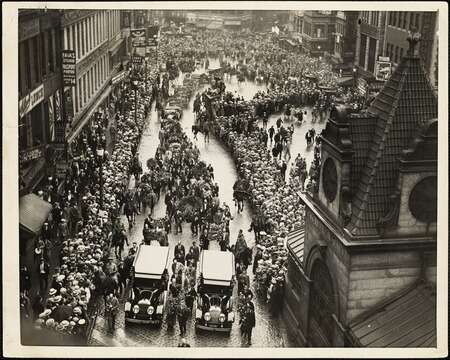 Sacco and Vanzetti Defense Committee, 256 Hanover Street, Boston
A group of fellow anarchists, lead by Vanzetti's 23-year-old friend Aldino Felicani, formed a defense committee on May 9, 1920, and over the years, it raised over $300,000 for Sacco and Vanzetti's legal defense. The committee moved to its Hanover Street location in 1925 and remained there until the men were executed. A plaque was placed on the site in 1976 and rededicated in 2007.
Norfolk County Courthouse, 650 High Street, Dedham
Sacco and Vanzetti's trial for the Braintree crimes convened here on May 21, 1921, and continued until July 21, 1921, when the jury returned a guilty verdict after deliberating for only three hours. The Greek Revival courthouse, opened in 1827, continues to serve the Norfolk County Superior Court.
Norfolk County Jail, Village Street, Dedham
Sacco and Vanzetti were held in this jail during their 1921 trial. Sacco's 7-year-old son Dante would sometimes visit and play catch with his father by throwing a ball over the fence into the exercise yard. In 1999, the building was renovated as the Stoneleigh Condominiums.
Boston Common, Boston
On August 21, 1927, over 20,000 people gathered to protest the imminent execution of Sacco and Vanzetti. Similar protests were held in 1927 in every major North American and European city as well as other major cities around the world.
Charlestown State Prison, Charlestown
Sacco and Vanzetti were executed by the electric chair here on the morning of August 23, 1927. The Charlestown Prison closed in 1955, and Bunker Hill Community College has stood on this site since 1973.
Langone Funeral Home, 383 Hanover Street, Boston
The bodies of Sacco and Vanzetti were brought to this family-owned funeral home in the North End, where over 10,000 mourners viewed their bodies in open caskets over two days. The funeral home continues to operate at a different location in the North End.
Forest Hills Cemetery, Jamaica Plain
On August 28, 1927, over 200,000 people participated in a two-hour procession from the North End to the Forest Hills Cemetery in Jamaica Plain. Police blocked the procession near the Massachusetts State House leading to a brief skirmish with the mourners. Sacco and Vanzetti's bodies were cremated at Forest Hills, with their ashes eventually returned to Italy. Sacco's ashes were sent to Torremaggiore, the town of his birth, where they are interred at the base of a monument erected in 1998. Vanzetti's ashes were buried with his mother in Villafalletto.
Boston Public Library, Gutzon Borglum sculpture
Gutzon Borglum, the sculptor of Mount Rushmore, created a memorial sculpture for Sacco and Vanzetti in 1928. For decades, local government officials refused to accept the memorial and the original bronze casting was lost. A plaster cast of the sculpture was put on display at the Boston Public Library Copley Square Main Library on the 70th anniversary of their execution in 1997, in a ceremony presided over by Boston's Italian-American Mayor Thomas Menino and Massachusetts' Italian-American Governor Paul Celluci.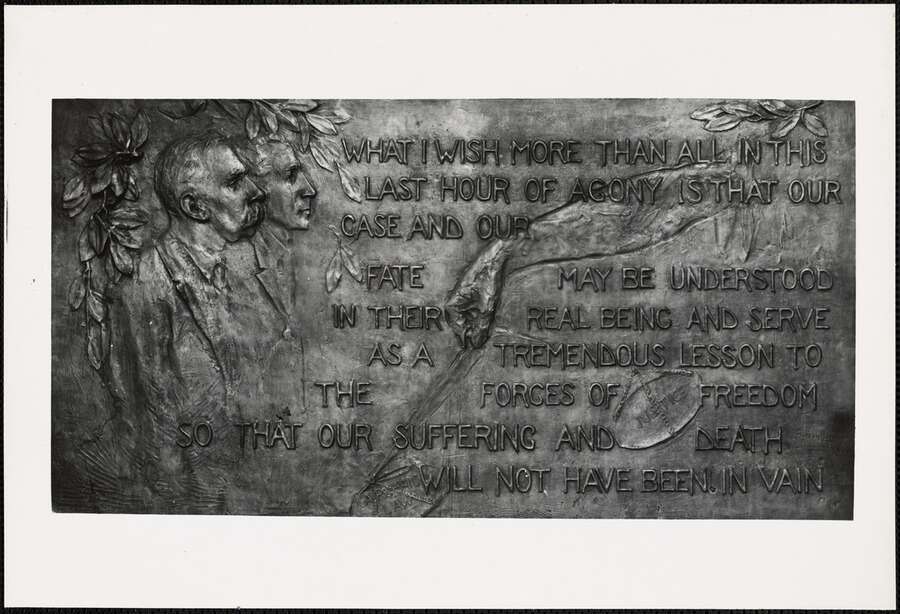 LEARN MORE ABOUT SACCO AND VANZETTI
Books
Sacco and Vanzetti: The Men, the Murders, and the Judgment of Mankind by Bruce Watson (available as an eBook through Boston Public Library)
The Letters of Sacco and Vanzetti by Nicola Sacco and Bartolomeo Vanzetti (available as an eBook through Boston Public Library)
The Lives of Sacco & Vanzetti by Rick Geary (a graphic novel account, available as an eBook through Boston Public Library)
Boston: A Documentary Novel by Upton Sinclair (a fictionalized account of the case)
Movies and TV
Sacco e Vanzetti (1971) – an Italian-produced docudrama
Sacco and Vanzetti (2006) – a documentary, free to stream through Boston Public Library service Kanopy.
Online Resources and articles
The Case of Sacco and Vanzetti – a web exhibit created by the Massachusetts Supreme Judicial Court
Sacco and Vanzetti Commemoration Society
Berenson, Barbara F., "The danger of Donald Trump: Prejudice can fuel gross miscarriages of justice," The Washington Post, April 15, 2020.
Hanson, Fred, "A robbery, two murders, and a century of controversy," The Patriot Ledger, April 15, 2020.
Knox, Robert, "Long Ago in Braintree, Mass… The Crime That Began the Sacco-Vanzetti Case Took Place 100 Years Ago," Medium, April 13, 2020.
Photos courtesy of Boston Public Library
This tour is not currently available as a private tour.
This tour is not currently available as a private tour.