Accessibility
We strive to create engaging, accessible experiences for all. Boston By Foot offers a wide range of tours, virtual programs and volunteer opportunities. There are accessible ways to enjoy many of our activities. We look forward to exploring Boston with you!
It helps to understand Boston's history and geography. Boston is a city of made land. Boston was once 800-acres of steep hills, meadows and swamps. Over time, land was created, most of our cobblestone streets replaced, and some hills leveled. The city today still has many narrow paths, some brick and cobblestone sidewalks, and a few hills. We also have neighborhoods of flat made land, and wide paths.
Plan Your Tour
We understand that everyone experiences their disability differently. We offer a range of services to help you have a great tour.
Physical or Mobility Needs
In each tour description we provide a terrain rating. If you have limited mobility, our tours with likely uneven surfaces and significant inclines are the least accessible. Fortunately, we have lots of other choices.

We are happy to provide you with information in advance on local wheelchair rental companies. Call 617-367-2345 or email us at info@bostonbyfoot.org
Deaf or Hearing Loss
Assisted Listening devices or sign-language interpreters may be requested for any tour. Please provide us with two-week notice to make arrangements. Call 617-367-2345 or email us at info@bostonbyfoot.org

Virtual programs have captioning.
Blind or Low Vision
Many tours incorporate tactile elements and our tour guides are trained to use descriptive language.
Sensory Needs
We can recommend several tours that take place in quieter neighborhoods such as Beacon Hill and Back Bay's Victorian Architecture. Call 617-367-2345 or email us at info@bostonbyfoot.org

During the summer, some areas of the city are most crowded in the afternoon and evening, especially the North End and on the Freedom Trail.
Service Animals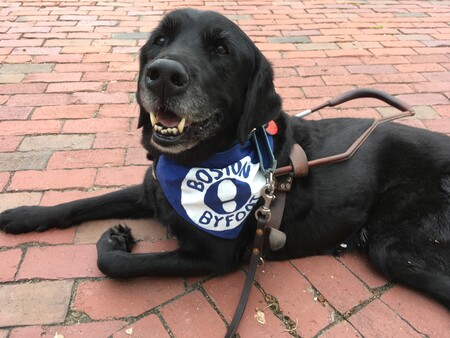 Boston By Foot welcomes service animals and their handlers at all tours and programs. We follow the Americans with Disabilities Act definition of a service animal. This is a dog that is individually trained to do work or perform specific tasks for an individual with a disability. A service animal may also be a miniature horse. (Pets are welcome only on private tours with advance notice.)
We train our staff and volunteers to welcome people using service animals and to respect your medical privacy. Unless there is a concern regarding your animal's behavior, we will assume it is a service animal and not inquire. If you have experienced unwanted attention, please let us know at 617-367-2345 or info@bostonbyfoot.org
Contact Us
If you did not find answers to your accessibility questions, please reach out to us at 617-367-2345 or info@bostonbyfoot.org. We can provide tour-planning advice tailored to your individual needs. We also welcome your suggestions for removing barriers and creating more enjoyable experiences.