About Boston By Foot
About Us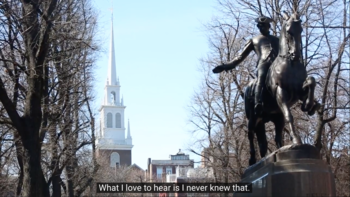 Boston By Foot is a welcoming community of life-long learners committed to providing opportunities for people to actively explore Boston's cityscape. Our affordable and accessible tour experiences are designed to engage curious learners. We inspire discovery of Boston's well- and lesser- known history and exploration of unique stories that may otherwise go untold. All tours are delivered by well-trained volunteer tour guides who are passionate about learning and sharing Boston's history with you.
Boston By Foot, Inc., is a registered 501(c)(3) educational non-profit organization. Through membership, volunteerism, and philanthropy, our community members play an active role in sharing Boston's history.
Our Vision, Mission, & Values
Vision
We envision a city whose residents and visitors have a deep understanding and appreciation of the city's complex and diverse history, geography, and communities.
Mission
We inspire locals and visitors to discover and appreciate the diverse stories of Boston by exploring the cityscape together.
Values
Appreciation for Boston: We work to create tours that help visitors and residents alike discover or deepen their appreciation for our multi-layered city.
Education: We are lifelong learners; committed to sharing thoughtful storytelling through the exploration of our city's past and present.
Quality: We are dedicated to rigorous and thorough research that creates meaningful, engaging, and entertaining experiences.
Curiosity: We seek to uncover untold stories, encourage new perspectives about the city of Boston, and ignite continued exploration.
Annual Reports