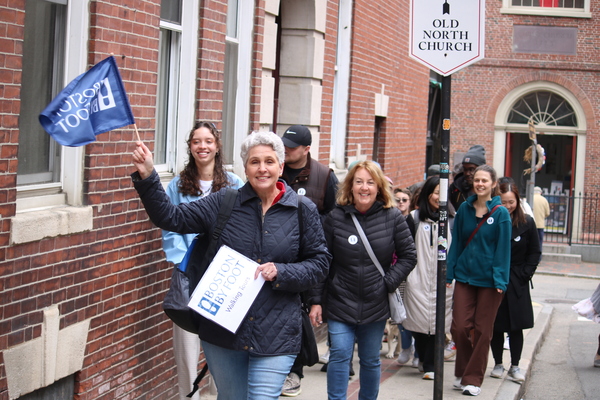 Become a Member
Join our community and support our work by becoming a member of Boston By Foot. Members enjoy free access to most of our programming along with other benefits.
Become a Member Renew Your Membership Give a Gift Membership
Membership Benefits
Unlimited free admission on most walking tours for the noted number of people*. Pre-registration is required for all tours.
Free admission to all of Boston By Foot's virtual programming
Access to recordings of past Boston By Foot virtual events (upon request, subject to availability)
Exclusive member previews of new tours before they're offered to the public
Weekly or bi-weekly emails to keep you informed about Boston By Foot programs and activities
* Discounted admission applies to our two annual celebration tours: Footloose on the Freedom Trail and Beacon Hill with a BOO!
Membership Levels
Senior Membership (One Person/65 or older) - $60
Student Membership (One Person) - $60
Individual Membership (One Person) - $75
Dual Membership (Two People) - $100
Family Membership (Six People) - $150
Patron Membership (Six People) - $200
In addition to the benefits of a Family Membership, Patron Members also receive invitations to special events and programming and special thanks in our annual report.
Membership dues are fully tax-deductible.