Meetings & Celebrations
2022 Annual Awards Reception
Thursday, November 17, 2022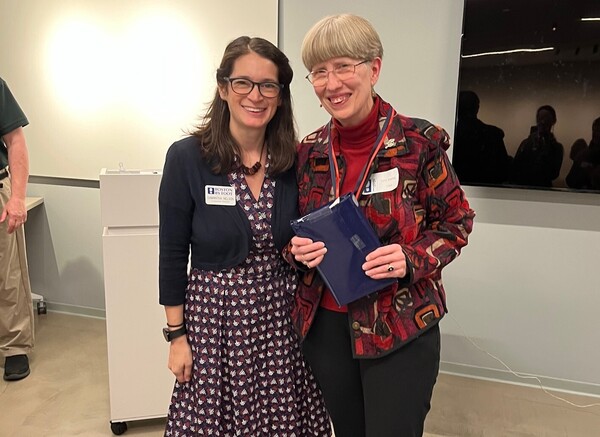 On November 17, 2022, dozens of Boston By Foot volunteers made their way to Allsteel headquarters in Downtown Boston for our Annual Awards Reception - our first in-person awards reception since 2019!
During this evening of joy and festivities, we celebrated many well-deserving Boston By Foot volunteers, including committee co-chairs, editorial board members, and numerous guides who have served BBF for five, ten, fifteen, twenty, twenty-five, thirty-five and forty years!

FOOT PINS:
The following people were awarded Foot Pins to honor their years as a BBF volunteer:
5-year pin recipients: Rich Abrahams, Dan Bach, Dianna Bronchuk, Pamela Connolly, Tom Ebling, Timothy Frank,
Tod Hibbard, Laurena Smith, Carol Trust, Lillian Weigert, Sanjay Yengul
10-year pin recipients: Anna Marie Bracco, Beth Greenwood, Aline Kaplan, Betsy Kimball, Dennis McCarthy,
Peter Micheli , Bob Perkins, David Phillips, Diana Vaughn
15-year pin recipients: Rebecca Brooks, Mary Margaret Griffin
20-year pin recipient: Steve Kluskens
25-year pin recipients: Sharon Fogarty, Heather Pence
35-year pin recipient: Jan Engelman
40-year pin recipient: Sally Ebeling

COMMITTEE CO-CHAIRS:
Committee Co-Chairs serve for two-year terms, with one Co-Chair rotating out each season.
Academic Affairs Co-Chairs: Sharon Fogarty and Anne Bosman. Sharon's term as co-chair ends this year.
Tour Development Co-Chairs: Lauren Sterling and Shawn McGuinness. Lauren's term as co-chair ends this year.
Volunteer Experience Co-Chairs: Anna Marie Bracco and Diana Vaughn. Because we had to suspend volunteer experience activities due to the pandemic, both Anna Marie and Diana will be continuing their service as co-chairs in 2023.
Boston By Foot is so grateful to our Committees and their Co-Chairs. Thank you for your dedication and countless hours of service!

EDITORIAL BOARD:
Boston By Foot's Editorial Board is made up of four experienced volunteers who are tasked with overseeing the review of Boston By Foot's weekly tour manuals. Each winter they review one or two manuals, most recently taking on Road to Revolution and Back Bay. The Editorial Board was created in 2012 and structured to have one volunteer rotate on and one rotate off each year.
2022 Editorial Board Members: Dayl Cohen, Jan Engelman, Liam Sullivan and Sheila Frasier. Dayl is completing her four-year term this year.
Thank you to all of our Editorial Board Members for your work in ensuring our tours are regularly reviewed and updated.

VOLUNTEER LIAISON TO THE BOARD OF TRUSTEES:
For the past two years, Sharon Fogarty has been a steady presence at Trustee meetings, regularly updating the board on volunteer activities and drawing upon her many years as a BBF volunteer to lend thoughtful insights during board discussions. As she completes her term as Volunteer Liaison, we thank her for her guidance, recommendations and dedicated participation.

DISTINGUISHED SERVICE AWARDS:
This year's first Distinguished Service Award was presented to a guide who helped us out by taking on a big project when another guide had to take a step back. It was pretty late in the game and the project had a tight timeline. This guide was concerned about the size of the project and how much time he'd be able to devote, but took on the project anyway and - unsurprisingly - he gave it his all. This guide gave deep thought to each stop of our Road to Revolution tour. He worked collaboratively with the Editorial Board, and did extensive research to add stories and background on individuals and communities that were not included in the original version. We now have an excellent, updated Road to Revolution manual thanks to Tom McNamara.
Our second Distinguished Service Award was presented to a guide who has written dozens of tours in her 40 years with BBF. As we've reviewed our tour portfolio in the past couple of years, she has revisited so many of these tours to make needed updates. Tour updates can include reviewing content, making accessibility improvements, route adjustments and whatever else the tour might need to make sure it meets our current needs and is ready for new guides to learn. This all adds up to hours and hours of work for each tour. This guide has taken on the review of these tours without batting an eye. She keeps an open mind, works quickly, thoroughly and in partnership with other volunteers and staff. For each project, she conducts new research and searches for opportunities to incorporate stories that were previously overlooked. This is all on top of leading many of these tours herself, and often single-handedly ensuring we were able to have a full calendar of our monthly and quarterly tours. We couldn't have presented such a full and diverse tour calendar without Sally Ebeling.

VOLUNTEER EMERITUS:
In 2017, Boston By Foot established the Volunteer Emeritus position to honor the contributions of longtime volunteers and enable them to continue a lifetime connection to the organization after they have decided to end their active involvement. After 10 or more years of service, volunteers may choose to become Volunteer Emeriti. They will receive lifetime Volunteer Membership benefits and the lasting title of Boston By Foot Volunteer Emeritus or Volunteer Emerita. This year we added the following volunteers to the ranks of our Volunteer Emeriti.
James Boyd, Class of 2008
Jean Hunt, Class of 2010
Paul LaShoto, Class of 2001
Nancy White, Class of 2000
We sincerely thank all of our newly inducted Volunteer Emeriti for their many years of service to Boston By Foot, and treasure our ongoing relationship.


We also thank not just the award recipients listed above, but also every one of our wonderful volunteers. Their passion and love for Boston By Foot is beyond compare, and we're so thankful to have such a strong and devoted community.