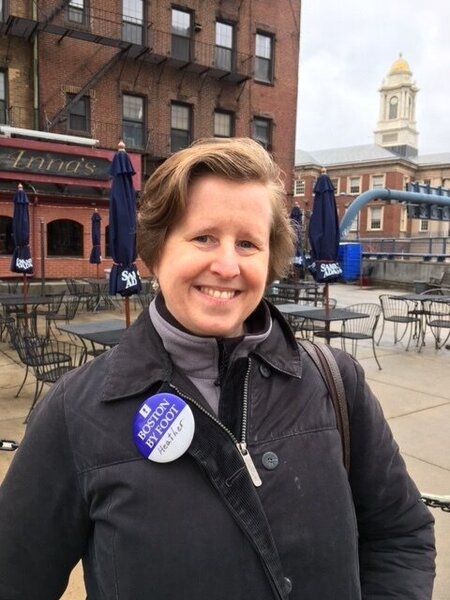 Heather Pence
Heather Pence has been living in and giving tours of Boston for the past 20 years. Originally from New York, Heather joined Boston By Foot in its 22nd season and currently gives The Dark Side of Boston tour as well as several other special topic tours.
What attracted you to being a tour guide?
I love taking tours. I took a lot of tours from the Chicago Architectural Foundation when I lived in Chicago and loved learning about the history and the architecture. I never became a docent with them, but when I moved to Boston and found out about BBF, I thought, "I'm not letting this opportunity pass me by!" I give fewer regular tours these days, but love giving special tours or tours of the month. I love learning about new neighborhoods - like the SOWA tour of the month in August - today I know very little about it, but by August, I'll be an expert - and what an interesting place!
What is something that people are surprised to learn about Boston?
I think that most non-natives are surprised to hear that Boston had a Molasses flood!
What's your favorite tour to give?
Usually, it's the most recent tour I've learned that is my favorite. I've been enjoying Grave Undertakings, which tours 3 of the downtown Boston burial grounds. I never thought I would be interested in the history of cemeteries and the origins of different designs on gravestones, but I got really interested and really enjoy the tour.
What's your favorite building in Boston?
I really like Faneuil Hall. I like that it changed over time to meet different needs - from a small wood building, to a small brick building, to a much larger brick building. I like that it is mixed use - it has always had retail shops on the first floor and town meetings on the second floor - what a great early use of space! And in addition to all the great stories about the town meetings and the early genesis of the revolution, I like that today people who become citizens in Boston go to a ceremony at Faneuil Hall are are surrounded by statues and paintings showing the great history of Boston and Massachusetts.
Catch Heather on some of our Dark Side of Boston tours throughout the season, and at the Grave Undertakings Tour of The Month on June 25th!