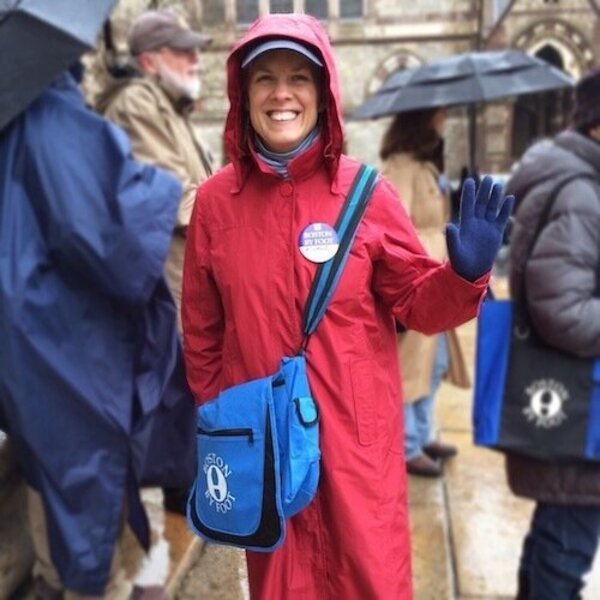 Michele Steinberg
Born and raised just outside of Boston, Michele Steinberg has felt deeply connected to the city all her life. She has worked at various organizations throughout Boston such as the Massachusetts Department of Conservation & Recreation, among others. Most recently, Michele returned to her hometown of Quincy to join the National Fire Protection Association (NFPA) where she has been working since 2002.
When she is not managing the NFPA's Wildland Fire Operations Division, Michele can be found out in the city, guiding our Architecture Cruise, Boston By Little Feet, Heart of the Freedom Trail, North End, Road to Revolution and Dark Side of Boston tours. She also enjoys giving special tours from time to time. As if that isn't enough, as a member of BBF's publicity committee, Michele also helps run our Twitter account. In her own words, she is "definitely not shy when it comes to talking about what a great organization this is and how much [she] loves it!"
What attracted you to Boston By Foot/being a tour guide?
When I started working for NFPA in Quincy, it was the first time in 15 years that I had a job outside downtown Boston and I really missed strolling the city streets (and all the places to eat lunch). I saw a flyer for the guide training in my public library in Newton and got curious about BBF. I started taking tours first and then signed myself up for training. I love simply being in the city (especially the North End) and I love learning and sharing my knowledge.
Did you have any background in history/architecture before joining BBF?
I went to Quincy public schools in the 70s-80s, which were good at a lot of things, but history? Not so much. We basically learned the American Revolution over and over again every year. We also visited the Adams birthplaces and other AmRev landmarks a bunch of times - so I figured I had Heart of the Freedom Trail nailed. One of the wonderful things about "discovering" Boston history in my adult life is learning how much I never learned and didn't know. I have become a voluntary student of both history and architecture.
What's your favorite tour to give and why?
I fell in love with the Road to Revolution tour. I think it's because it flows in a narrative so well. Over the course of the last decade of getting to know these historical characters and buildings, I have realized that those one-dimensional characters I met in my annual revisiting of 1776 as a public school student were real people with real relationships and feelings - and I try to convey that in my tour. Road to Revolution also ties into the Heart of the Freedom Trail and the North End very well. My only challenge when I enter the North End is remembering which tour I am on, since I give 3 that pass through that neighborhood.
What is your favorite tour memory to date?
Oh so many good memories! My favorite moment had to be in August 2008 with a group of 6-year-olds on a Boston By Little Feet tour. They were from a summer day-camp group in the South End. One little boy was very, very eager to share his knowledge and actually knew about the Boston Tea Party. When I tried to get the children to guess who the statue at Old City Hall was (Ben Franklin, of course), I gave lots of hints (he's famous, he invented things, he's on money), but no correct guesses. Finally my little friend blurted out, "Obama!" Kids on the Little Feet tour say a lot of funny things, but that one was the best.
What's your favorite building in Boston and why?
Libraries have been some of my favorite spaces since childhood, so I have to go with the Boston Public Library. The courtyard is one of the most beautiful surprises in the city when you first visit it (and still takes my breath away on every visit). Happily with the Johnson building upgrade and renovation, I can now truly say I enjoy the entire building and not just the 19th century part of it.
What is something that tour groups are surprised to learn about Boston or its history?
Many people are surprised by how small the city once was and how much land has been filled or made over the centuries. Even as walkable as it is now, it was so small in the early settlement years and even up to the Revolution that it is rather amazing to think of all the "firsts" that the city can claim.
What is your favorite city to visit besides Boston?
New Orleans. I was honored and grateful to win the Flansburgh Travel Scholarship a few years ago, which allowed me to visit again and more deeply explore its history to bring back to my fellow guides. There is really no place like it in the world.