Boston By Foot News
2023 Tour Season Announced
Thursday, March 16, 2023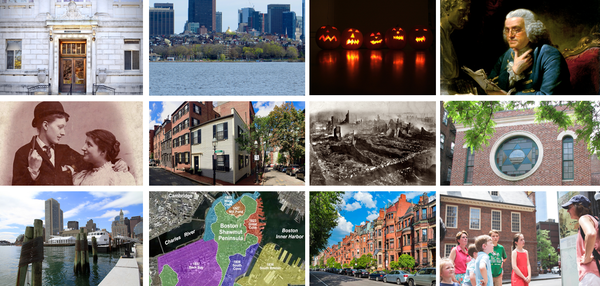 Boston By Foot (BBF) is pleased to announce its lineup of walking tours and water-based tours for the 2023 season. Explore Boston with us on 42 different tours throughout the season, from April 1st to mid-November. Here's a preview of what you can look forward to in the coming months!
We continue to offer six of our most popular 60-, 90- and 120-minute tours on a daily or weekly basis. These tours include:
Beacon Hill's South Slope

Boston By Little Feet

The Dark Side of Boston

Heart of the Freedom Trail

The North End: Boston's Immigration Gateway

Road To Revolution
Learn more about our Daily & Weekly Tours

TOUR SERIES
Beacon Hill Social History Series:
Discover fascinating social history in this series of tours exploring people and places of Beacon Hill.
Jewish Beacon Hill

The North Slope of Beacon Hill

Notable Women of Beacon Hill

Learn more about the tours in our Beacon Hill Social History Series


Bostonians Fight for Change Series: Feel inspired on this series of tours traveling in the footsteps of Bostonians who fought oppression and made change happen.
Boisterous Bostonians: Riots & Protests

Boston's LGBTQ Past

Road to the Vote: Boston Suffragists

Working Women: Boston Women Find Their Voice
Learn more about the tours in our Bostonians Fight for Change Series


Literary Series: Explore the power of the pen and Boston's literary greats across the centuries on our Literary Tour series.
Black Voices: 19th Century Black Writers on Beacon Hill

The Hub of Literary America

Literary Beacon Hill: The 20th Century

Louisa May Alcott's Boston
Learn more about the tours in our Literary Series


Neighborhood Series: Take a closer look at the history and architectural gems of some of Boston's unique neighborhoods.
East Boston: Maverick Square and Beyond

South Boston's Broadway

Upham's Corner
Learn more about the tours in our Neighborhood Series


Urban Development Series: Did you ever wonder why Boston looks the way it does? Pull back the layers of Boston's cityscape on these Urban Development tours.
Boston Reborn: After the Great Fire of 1872

Commonwealth Ave.

Fort Point Channel

Reinventing Boston: A City Engineered

The Story of Rowes Wharf
Learn more about the tours in our Urban Development Series

MORE MONTHLY & QUARTERLY TOURS
Art, Architecture and Gardens

Back Bay's Victorian Architecture

Beacon Hill From Both Sides

Before Boston: Shawmut Peninsula Through 1630

Ben Franklin: Son of Boston

Boston's Gilded Age

Boston's Loyalists

Bulfinch Triangle
Learn more about our Monthly & Quarterly Tours

No BBF season would be complete without our special annual July 4th and Halloween celebrations!
Footloose on the Freedom Trail

Beacon Hill with a BOO!
Learn more about our Annual Event Tours


Each year, our volunteer guides create brand-new tours that are offered twice during the season – first as a pair of preview tours offered exclusively for BBF members, then later in the season as a pair of tours open to the public. Tour dates and times will be announced soon!

Art Introspective: Copley Square to the South End

Becoming Back Bay

Fort Point and Seaport: The Evolution of the South Boston Waterfront

Leather District
Learn more about our New Tours for 2023

We continue to offer our two water-based tours in partnership with The Liberty Fleet of Tall Ships and the Charles Riverboat Company.
A Sail Through Time

Architecture Cruise
Learn more about our Sails & Cruises

Join our community and support our work by becoming a member of Boston By Foot. Members enjoy free access to most of our programming along with other benefits.
Membership Benefits
- Unlimited free admission on most walking tours for the noted number of people*. Pre-registration is required for all tours.
- Free admission to all of Boston By Foot's virtual programming
- Access to recordings of past Boston By Foot virtual events (upon request, subject to availability)
- Exclusive member previews of new tours before they're offered to the public
- Weekly or bi-weekly emails to keep you informed about Boston By Foot programs and activities
* Discounted admission applies to our two annual celebration tours: Footloose on the Freedom Trail and Beacon Hill with a BOO!
Membership Levels
- Senior Membership (One Person/65 or older) - $60
- Student Membership (One Person) - $60
- Individual Membership (One Person) - $75
- Dual Membership (Two People) - $100
- Family Membership (Six People) - $150
- Patron Membership (Six People) - $200
In addition to the benefits of a Family Membership, Patron Members also receive invitations to special events and programming and special thanks in our annual report.
Membership dues are fully tax-deductible.