Boston By Foot News
2022 Boston Cultural Council Grants Announced
Friday, February 11, 2022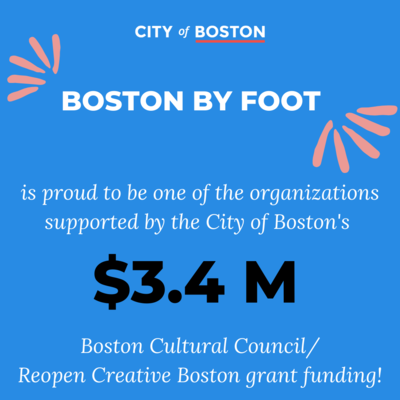 Boston By Foot is one of 192 arts and cultural organizations that have been awarded grants as part of this year's Boston Cultural Council/Reopen Creative Boston funding. The announcement was made on February 9th by Boston Mayor Michelle Wu and the Mayor's Office of Arts and Culture.
The City awarded a total of $3,422,000 in grants for general operating support and COVID-19 relief. "This year's group of grantees are a wonderful reflection of the diversity and vibrancy of Boston's arts community," said Wu. "From small dance groups, to organizations that focus on engaging communities through film, to some of Boston's most beloved cultural institutions, each one of these groups plays a vital role shaping our city."
Every year, the City works with the Boston Cultural Council (BCC) to distribute grants for general operating support to organizations with budgets under $2 million that offer some type of arts or cultural programming in Boston. This year, the BCC awarded a total of $643,677, which consisted of $266,000 from Mass Cultural Council and $377,000 from City funds.
For the third year in a row, BCC grant amounts were determined by budget size. The BCC made the decision this year to shift the funding structure so that organizations with the lowest budgets received the highest grant amounts. This funding strategy aims to better support emerging to medium-sized organizations who typically do not have scaled fundraising initiatives to support their programming.
An additional $2.78 million was awarded this year through Reopen Creative Boston funding. This one-time funding, allocated through the American Rescue Plan Act (ARPA), aims to support the recovery of arts and culture organizations from the economic impact of COVID-19 and reopen their programming to the public. In March 2021, Massachusetts nonprofit and municipal cultural organizations reported more than $588 million in lost revenue since the start of the pandemic. Organizations of all budget sizes were eligible to receive ARPA COVID-19 relief funding to cover costs related to reopening and restarting programs, including payroll, new technology, and consulting services.
"Arts, culture, and creative industries have been devastated by the pandemic," said Kara Elliott-Ortega, Chief of Arts and Culture. "This year's grantees have faced significant hurdles, but they also shared with us the exciting and innovative ways that they are making new work, staying connected to their communities, and helping our cultural scene come back to life."
The complete list of grantee organizations can be found here.
About the Mayor's Office of Arts and Culture
The Mayor's Office of Arts and Culture is a City agency that enhances the quality of life, the economy, and the design of the City through the arts. The role of the arts in all aspects of life in Boston is reinforced through equitable access to arts and culture in every community, its public institutions, and public places. Key areas of work include support to the cultural sector through grants and programs, support of cultural facilities and artist workspace, as well as the commissioning, review, and care of art in public places. Learn more at boston.gov/arts.
About the Boston Cultural Council
The Boston Cultural Council (BCC), under the umbrella of the Mayor's Office of Arts and Culture, consists of a diverse, volunteer body of Boston residents with lived experience in a variety of artistic disciplines. It annually distributes funds allocated by the City of Boston and the Mass Cultural Council, a state agency, to support innovative arts, humanities and interpretive sciences programming that enhances the quality of life in our city. For more information, please visit here.