Boston By Foot News
Join Us on a LITTLE WOMEN Scavenger Hunt!
Monday, December 2, 2019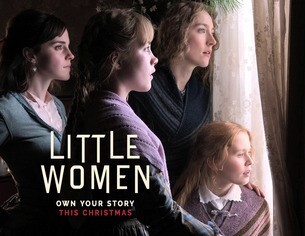 Celebrate the release of the LITTLE WOMEN movie by discovering the many locations in Boston where the film was shot!
Boston By Foot, Sony Pictures and the Boston Public Library present a sneak peek of the LITTLE WOMEN film sites mixed together with places that were important to Louisa May Alcott and her family.
Directed by Oscar-nominee Greta Gerwig, the film features the stellar cast of Saoirse Ronan who plays Jo, Emma Watson (Meg), Florence Pugh (Amy), Eliza Scanlen (Beth), Laura Dern (Marmee), Timothèe Chalamet (Laurie) and Meryl Streep as Aunt March. LITTLE WOMEN opens on December 25th.
SCAVENGER HUNT DIRECTIONS
All of the sites are within walking distance and are located in Beacon Hill, Back Bay, the Theater District and Downtown Boston.
View the full scavenger hunt guide here
SOCIAL MEDIA
Post images of you and your friends at the scavenger hunt locations on any or all of these social media sites:
Little Women Movie - Facebook, Twitter, Instagram
Boston By Foot - Facebook, Twitter, Instagram
Boston Public Library - Facebook, Twitter, Instagram
Use the following hashtags: #LittleWomenScavengerHunt, #LittleWomenMovie
"LOUISA MAY ALCOTT'S BOSTON" WALKING TOUR
On Sunday, December 15th from 11:00 am - 12:30 pm, Boston By Foot will conduct its Louisa May Alcott's Boston walking tour as a companion piece with the new LITTLE WOMEN theatrical release. Thanks to the fame of Little Women, today's readers associate Louisa May Alcott mostly with Concord. In fact, before the author reluctantly agreed to pen Little Women, her contemporary readers associated her prolific writing with Boston. Both before and after the 1868 publication of Little Women, Alcott lived for long periods in Boston and identified strongly with the city's ethos.