Boston By Foot News
Boston By Foot Annual Awards Reception
Friday, October 27, 2017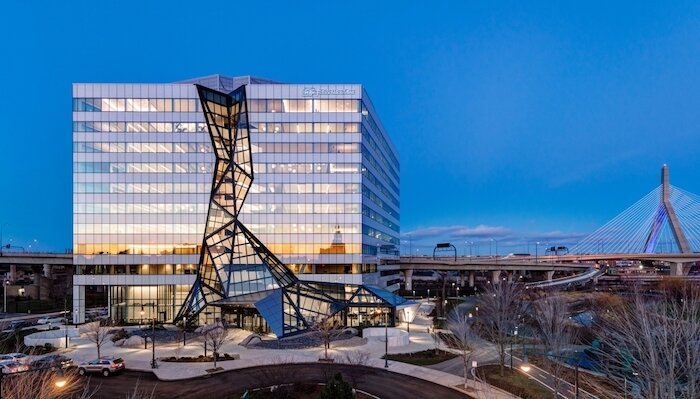 Though we're sad to see the 2017 tour season rapidly come to a close, we're excited to be gearing up for our annual Awards Reception which will be taking place in just a few short weeks! We are thrilled to announce a new location for our reception, Education First's American Headquarters Building in Cambridge, Massachusetts. The 300,000 sauare foot building features one of the world's largest open workspaces, and a stunning glass waterfall that cuts through the front of the 10-story structure.
On November 8th, many well-deserving Boston By Foot volunteers will be recognized for their abounding special achievements, including those who gave twenty or more tours this season, retiring committee co-chairs, Flansburgh Travel Fellowship winners, and a handful of guides who have served BBF for five, ten, fifteen, twenty-five, thirty, and even thirty-five years! This year we are thrilled to also be introducing our newest honor: Docent Emeritus.
Boston By Foot is fortunate to have over 200 dedicated volunteers who devote countless hours to creating and leading tours. The Docent Emeritus position has been created this year to honor the contributions of longtime volunteers and enable them to continue a lifetime connection to the organization after they have decided to end their active involvement.
While we won't be announcing our 2017 Docent Emeritus honorees until the reception in November, we are delighted to reveal our longtime service award winners below.
Five years of service: Anna Marie Bracco, Kate Briggs, Mersine Florio, Beth Greenwood, Aline Kaplan, Betsy Kimball, Dennis McCarthy, Peter Micheli, Bob Perkins, David Phillips, Liz Ranelli, and Diana Vaughn
Ten years of service: Jim Boyd, Rebecca Brooks, Mary Margaret Griffin, Hue Holley, Matt List and Dina Vargo
Fifteen years of service: Beverly Davis, John Morrison, Steve Kluskens and Kathy Vorse
Twenty years of service: Sharon Fogarty and Heather Pence
Twenty-five years of service: Fran Lanouette
Thirty years of service: Margaret Bratschi and Jan Engelman
Thirty-five years of service: Sally Ebeling
Our annual awards reception is one of our favorite nights of the year. We are looking forward to sharing this evening of exuberance, gratitude and celebration with the BBF community!