Boston By Foot News
Corporate Member Spotlight: Boston Beer Company
Saturday, September 16, 2017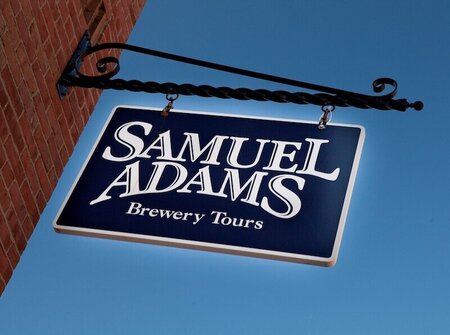 Samuel Adams: Founding Father, politician, leader of the American Revolution, and the namesake of the #1 brewery in the U.S. It's no wonder we chose his statue as the meeting location for several of our most popular tours!
Besides pioneering the craft beer industry and brewing some of the best beer in the country, Samuel Adams has been a valuable member of the Boston By Foot community since 2012. As a partner, their support goes above and beyond in helping us spread our love and passion of Boston to everyone.
Along with generous support, Samuel Adams also works with us in other meaningful ways. From regularly providing their delicious local brews like Boston Lager and Summer Ale to our many member, docent, and community events, to hosting our 40th Anniversary Celebration at the Samuel Adams Brewery right here in Boston, the support from the Sam Adams team never ceases to amaze us.
Samuel Adams is no stranger to philanthropy. In 2008, Brewer and Founder Jim Koch launched the company's official philanthropic program, Samuel Adams Brewing the American Dream. With a focus on helping small business owners in the food and beverage industry the program provides entrepreneurs with the essential ingredients to achieve their dreams of successful business ownership. Since its inception nearly 10 years ago, the program has mentored more than 7,000 small business owners and supported lending partner Accion in funding more than 1,300 loans totaling $17.7 million of microfinancing to small businesses nationwide.
We're extremely proud of our partnership with such a great organization, and so thankful for their continued support!