Boston By Foot News
2017 Annual Report Now Available
Wednesday, October 24, 2018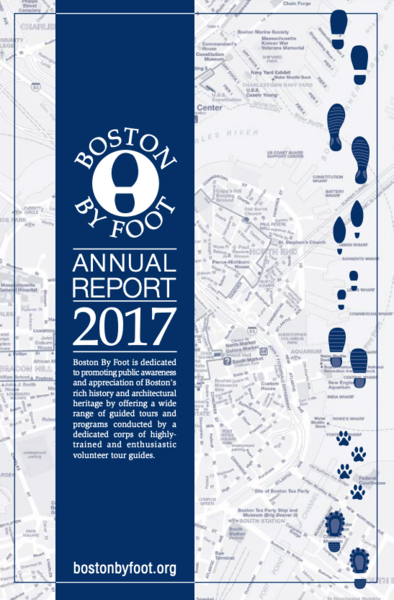 Boston By Foot recently published its 2017 Annual Report, reflecting upon its accomplishments in its 41st year.
Over the 12-month period, 206 volunteers led 1,396 tours (Including 249 private tours). A total of nearly 20,000 people participated in BBF tours during 2017.
In the fall of 2017, BBF received an unexpected and extraordinary gift from its most vested patron, Polly Flansburgh, Founder and President Emerita. The contribution was dedicated to the memory of her husband, the late Earl Flansburgh, a loyal friend and former BBF Trustee and lecturer. The gift — significant in every aspect from its source to its implications – presents a unique opportunity to BBF to enhance and strengthen its resources and assure our vitality in the future.
In response to this extraordinary gesture of generosity and support, our Board of Trustees announced its plan to initiate a $100,000 Challenge Match Campaign – begun in 2018 and running through the end of 2019 – to leverage this potentially transformational gift and to salute the Flansburgh's lifelong dedication and commitment to BBF.
Also in 2017, a new Docent Emeritus position was created to honor the contributions of longtime volunteers and enable them to have a lifetime connection to the organization after they have decided to end their active involvement. Docent Emeriti are self-selected and may choose to transition from active volunteer to Docent Emeritus at any time once he or she has meet the eligibility requirements, which include serving Boston By Foot for 10 years or more. In 2017 five guides became Docent Emeriti: Janell Fiarman, Mary Klatt, Renee Miller, Fred Paulsen and Linda Perlman.
The 2017 Annual Report is now available on our website, and we invite everyone to take a look at all that Boston By Foot achieved in 2017.