Boston By Foot News
Students Write Neighborhood Guide with Help from BBF
Wednesday, September 23, 2020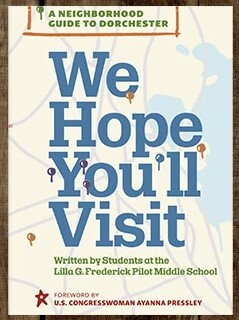 826 Boston recently announced the release of "We Hope You'll Visit: A Neighborhood Guide to Dorchester." The book is a part of this year's 826 Boston Young Authors' Project.
Written by 50 students from the Lilla G. Frederick Pilot Middle School, the book is a guide to meaningful locations in the Dorchester community. Boston By Foot Executive Director Samantha Nelson, along with docents Gretchen Grozier and Katie Kelly, gave tours on the history of Dorchester to the 826 Boston students to help them write the book.
826 Boston is a nonprofit youth writing and publishing organization that empowers traditionally underserved students ages 6-18 to find their voices, tell their stories, and gain communication skills to succeed in school and in life.
Click here to learn more about the book or to purchase a copy.