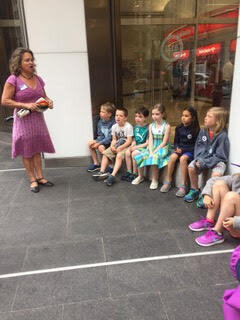 Cloudy Doerre
Cloudy Doerre (pronounced "Dory" like the little row boat, or in "Finding Nemo") grew up on both sides of the Atlantic Ocean in both Hamburg, Germany and a New Jersey suburb of New York City. Growing up on two continents and in two cultures enriched her life early on. Her parents made sure that she learned additional language skills during the summers by spending months at a time abroad in places like Belgium and Venezuela.
As a full-time mother and homemaker, Cloudy raised three children. Now she is spreading her wings. She recently worked on tall ships in the Caribbean and currently owns and operates Liberty Fleet of Tall Ships, based on Long Wharf, with her husband.
A lifelong yearning to be at sea has been surprisingly realized, and while she enjoyed working on schooners, it was hard to be away from home for months at a time. So Cloudy looked into local tour guide opportunities and was thrilled to be accepted into Boston By Foot's Class of 2017 training program. She has thoroughly enjoyed bringing history and architecture to the little ones visiting Boston (AND to their parents and guardians).
Where are you from/where do you live?
I grew up in both the northern port city of Hamburg, Germany, as well as in northern New Jersey in a small town called Mountain Lakes, near New York City. I now live on the South Shore by the coast.
How long have you been a BBF guide?
I just finished my first year and am looking forward to Year #2!
What regular tours do you give for Boston By Foot?
Boston By Little Feet.
What is your current or past career/occupation?
Tour guide/business owner of Liberty Fleet of Tall Ships - Come sail with us! (I have also recently worked as Operations Manager for a tall ship company in the Caribbean and have spent several months at a time at sea. Quite a way to adjust to an empty nest!)
What attracted you to BBF/being a tour guide?
A few years ago I was on a bus tour of San Antonio in Texas and had an amazing tour guide show us around the area. She completely convinced me how great it can be to see a city through the eyes of a local. One can only learn so much on a self-guided tour. This inspired me to look into working as a tour guide in Boston, which led me to Boston By Foot. The perks? I get to be in the city; I have learned so much about Boston and continue to do so; and I absorb any detail I can about the history and architecture. Boston By Foot is dedicated to and supportive of its volunteers and I feel it is a privilege to be one of their docents.
What is your favorite tour memory to date?
I love showing the kids all the animal sculptures along the way, and yet they also learn about the Freedom Trail. So at the end of my tour, I just love asking them a few questions and getting great answers. My favorite tour memory is when I was near Old South Meeting House with a group of young tourees and I said: "Benjamin Franklin was born in Milk Street" to which a little boy cried out: "He was born IN THE STREET?!?" Since then I am careful to be a little more detailed in my statement.
Did you have any background in history/architecture before joining BBF?
No official training, but when I travel I find I always try to learn history and architecture in whichever city I happen to be.
What's your favorite tour to give and why?
So far I have only given the BBLF tour, but I really enjoy reaching the children as well as the adults and giving them an idea of how history is right under their noses, as well as ABOVE them.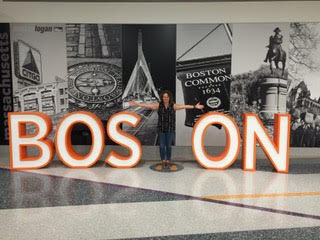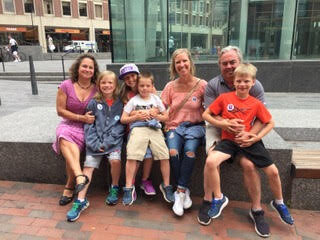 What's your favorite building in Boston and why?
I really like the Restoration Hardware building on Berkeley Street. For years it mystified me what that building was for. When I finally decided to explore it I was struck by its beauty. While I was in the BBF training program last year I also gave an oral presentation on it. Who knew there was so much history in that building?
What is something that tour groups are surprised to learn about Boston or its history?
In my case, the time capsules along the way really interest my guests. Many people do not look UP and see beyond the roof. Also, visitors are always surprised to learn how much of Boston is "made land."
What is your favorite city to visit besides Boston?
My home port of Hamburg! 800 plus years of history there! (I am glad I don't have to span that many years of history here in Boston!)
Is there anything else you would like to share about yourself or your time at BBF?
I am bilingual in German and English and have been able to adjust my tours to tourists from Germany (you have to go easy on the history aspect and in general they LOVE the big fat gray squirrels on Boston Common and Public Garden, no lie!). I just enjoy sharing Boston with visitors and I find that being a BBF docent keeps me fresh and up-to-date and on my toes.
You can usually catch Cloudy giving Boston by Little Feet tours on a Sunday at 10:00 am and 1:00 pm. On occasion, she'll also help out with private tours scheduled by the office.