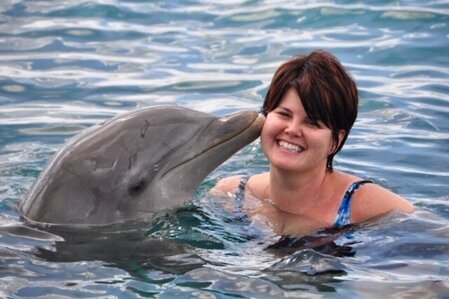 Sharon Fogarty
Sharon Fogarty grew up as an Army brat living mainly in Germany and Italy, as well as on a few Army bases in the U.S. Growing up bilingual (mom is from Germany), it gave her an appreciation for other cultures and languages.
Sharon has always had a love for U.S. History, an appreciation that can be traced back to her love of reading The Childhood of Famous Americans book series while in elementary school.
Sharon has been a member of Boston By Foot since 1998 and has participated on many committees (mostly with the Academic Affairs Committee). She tried her hand in writing her first tour - South Boston's Broadway - in 2018. Given initially as a Continuing Education tour in 2018, it will be part of the Featured Tours lineup in 2019.
Sharon gives mainly The Dark Side of Boston, Boston By Little Feet, Beacon Hill and Heart of the Freedom Trail tours, and will add Road to Revolution this year. She gave her first Boston by Little Feet tour this year in German for a Swiss family.
Where are you from/where do you live?
I was an Army brat and lived in Germany and Italy before eventually moving to Maine. I now live in South Boston.
How long have you been a BBF guide?
I am going into my 22nd year (I started when I was five!).
What regular tours do you give for Boston By Foot?
I give Beacon Hill, Little Feet, Dark Side and Heart of the Freedom Trail. This year I plan on also giving Road to Revolution.
What is your current or past career/occupation?
I work in procurement handling the travel category for my company.
What attracted you to BBF/being a tour guide?
I have always had a love of history. Added to that is my love of Boston so BBF made a perfect fit.
What is your favorite tour memory to date?
I have two. The first happened last summer when I gave a Heart of the Freedom Trail tour for a bunch of pug dogs (and of course their owners). It was quite unique and fun. The other happened on a Little Feet tour. I was explaining the difference between what holds up a brick building (the bricks on the outside) and what holds up a modern skyscraper (the steel on the inside). An 11-year-old chimed in: "So the brick buildings have exoskeletons and the skyscrapers have endoskeletons!" I thought that was such a great analogy that I now use that on my LF tours.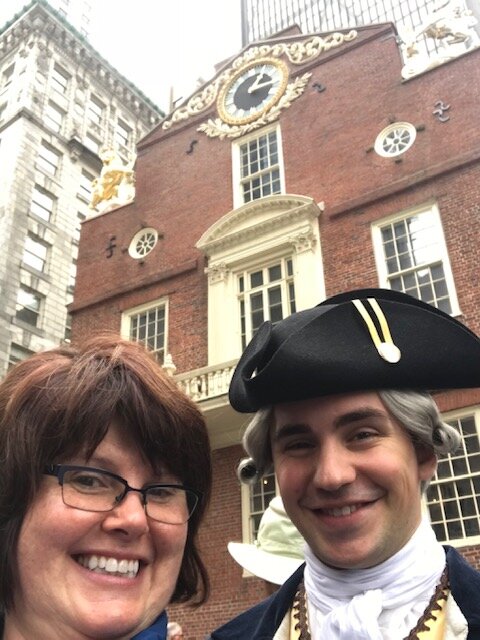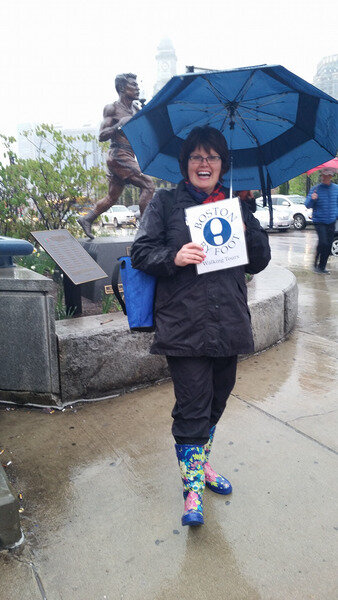 Did you have any background in history/architecture before joining BBF?
I had no background in either. However, I grew up reading biographies from Grade 4 on. In addition, when I was 5, we were stationed not far from Williamsburg and Jamestown, so my love of U.S. History probably started there.
What's your favorite tour to give and why?
I can't really point out one favorite as I love giving the Beacon Hill, Little Feet and Dark Side tours. If I had to choose one, though, it probably would be Beacon Hill as I am a Federal architecture fan (and a Bulfinch groupie).
What's your favorite building in Boston and why?
I have a lot of favorite buildings, but I am always in awe of the Museum of Fine Arts.
What is something that tour groups are surprised to learn about Boston or its history?
People are usually surprised that Paul Revere didn't yell "The British are Coming" and now know more about the Regulars.
What is your favorite city to visit besides Boston?
I would say London.
Is there anything else you would like to share about yourself or your time at BBF?
I have made many lifelong friends through BBF and it really does feel like a family.
Among her regular tours of Beacon Hill, Boston by Little Feet, Dark Side and Heart of the Freedom Trail this year, Sharon will also be giving Road to Revolution tours as well as Footloose on the Freedom Trail on July 4th, South Boston's Broadway on October 13th and Beacon With a Boo on Halloween.