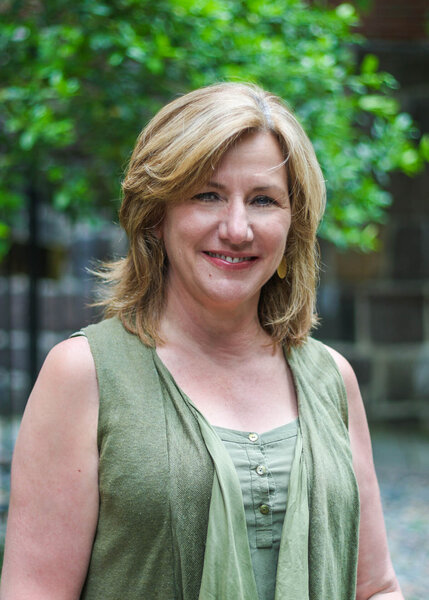 Regina Cockerill
Regina is a world traveler who has been giving tours with Boston By Foot for two years. Her time spent living in both Boston and the UK has allowed her to appreciate the unique architecture and history of our wonderful city. A former teacher, Regina brings her education background to her tours of Beacon Hill where she shares stories of Boston's first residents. Keep reading to learn more about Regina!
What attracted you to being a tour guide?
I have traveled a lot and I appreciate tour guides who connect well with tourists. So much of Boston's charm is reflected in its history. When I moved to the historic neighborhood of Beacon Hill, my neighbors didn't know much about their own neighborhood so I decided to learn it in depth. Guiding allowed me to share my knowledge while connecting with tourists to this lovely city.
Did you have any background in history/architecture before joining BBF?
My husband is British and we raised our children in England. For 16 years I was fortunate enough to travel Europe, studying its history and architecture. Born in Texas, I have extensive American roots with more than ten generations in several family lines. As I studied the records of my ancestors, I learned in detail how their lives were entwined with American History.
What is your favorite tour memory to date?
There was a quiet, refined gentleman on one of my tours. Only at the tour's end did I discover he was a resident of Louisburg Square, Boston's most famous residential square. He also wanted to learn about his neighborhood's architectural history, while strolling through the tree-lined streets.
What's your favorite building in Boston and why?
I love Old City Hall. It's so grand and ornate. It ushered in French Second Empire style. Some people like to call it the Wedding Cake. When you see it, you'll know why. After this style arrived in Boston just after the Civil War, French styling began to appear on residential buildings everywhere -- in Back Bay and on the flat of Beacon Hill in particular. And, Old City Hall was Boston's governmental home for over a hundred years -- so a lot of politics and governing happened right there.
What has been your experience living in London and Boston, two cities with very well known history and architecture?
The obvious difference is the breadth of historical architecture. The City of London dates back to the Roman Empire and there are several Roman remains. The Tower of London dates back to the Norman Conquest of 1066. The site of Westminster Abbey has been a coronation church since the 11th century. Fabulously, it remains an important edifice: the site of Princess Diana's funeral and years later, the wedding of Prince William & Kate Middleton. The architectural glory of this building, combined with its extensive history radiates power and longevity. Historically, these time periods dwarf the arrival of the Puritans to New England in 1630.
I'm a preservationist. I believe buildings are treasures for future generations. They educate us with stories of the past. Historical buildings help us imagine the drama and intrigue of the people who made history in them. England has a rigid system of defining the historical importance of a building. Older buildings, public and residential, are listed, meaning they are restrictively protected from external change. Older buildings in America are not protected to the same extent, although Boston does have some systems in place. I encourage Bostonians to get involved in architectural planning decisions in your community. Only by speaking out can we work to protect the buildings of our American history.
What is something that tour groups are surprised to learn about Boston or its history?
I always get smiles and gapes of disbelief when I explain the State House is built on what was John Hancock's pasture land. That simple fact helps people grasp the cozy population of 15,000 in Boston just after the Revolution.
Check out our Beacon Hill tour to hear more fascinating history from Regina!