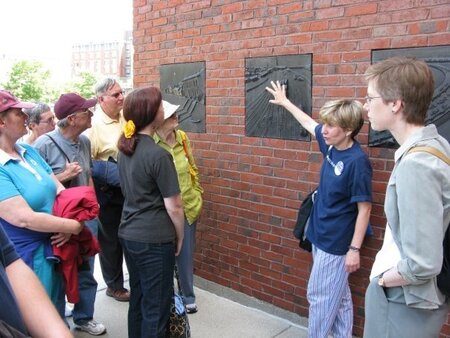 Gretchen Grozier
Gretchen Grozier grew up as an Air Force brat, and got to live all over the world. But she always loved coming to visit her grandmother in Massachusetts and exploring the State's rich history with her. Gretchen joined Boston By Foot in 1999 (this is her 20th year!) and has participated on various committees (Academic Affairs, Tour of the Month, Special Tours). She has written many new tours, which often seem to feature a hill: Chestnut Hill, Ashmont Hill, Roxbury Highlands, Carruth's Hill. Gretchen gives The Dark Side of Boston, Boston By Little Feet, Beacon Hill and the Hub of Literary America tours most regularly.
What regular tours do you give for Boston By Foot?
Beacon Hill, Beacon Hill With a BOO!, The Dark Side of Boston, Boston By Little Feet, The Hub of Literary America, The North End: Gateway to Boston
What is your current or past career/occupation?
Project Manager, City of Boston IT
What attracted you to BBF/being a tour guide?
Showing people our lovely city, and explaining what makes it so amazing!
What are your favorite tour memories to date?
Any Boston By Little Feet tour when a kid holds my hand as we walk. One time, a little girl sat on my feet at each stop on the Little Feet tour and just stared up so happily as I talked. It was great! Another favorite memory was the time we went inside a Union Park house on a South End tour of the month and the owner gave us all lemonade on her back deck.
Did you have any background in history/architecture before joining BBF?
Yes. The two most relevant things are my undergraduate degree in History, and my time as a Boston Public Library guide.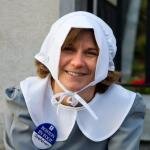 What's your favorite tour to give and why?
I would say Little Feet because it is different every time. You never know what kids will do or say. Also, I really love when they are excited about Boston's history!
What's your favorite building in Boston and why?
I love the Boston Public Library. All that magnificence and it's free to all!
What are some things that tour groups are surprised to learn about Boston or its history?
There are a few things, for example, how much of the land is fill. People also love Roxbury Puddingstone when you explain it to them. And I love to see the look of disgust on people's faces on The Dark Side tour when I talk about smallpox pustules. Inoculation is something that shocks folks!
What is your favorite city to visit besides Boston?
Edinburgh
See Gretchen on these upcoming 2018 tours: the very first Beacon Hill tour of the year (traditionally given in memory of John Heller, a much missed BBF guide) on May 1st; Ben Franklin: Son of Boston on July 1st; Footloose on the Freedom Trail on July 4th; and Beacon With a Boo on Halloween. On September 30th, you can catch her on a tour with an entirely flat route that she co-wrote: SoWa (South of Washington Street).