Boston By Foot News
Boston By Foot Celebrates Five Years Under The Leadership Of Samantha Nelson
Wednesday, May 17, 2017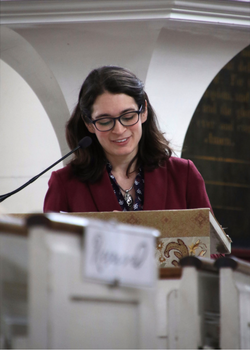 Boston By Foot is proud to celebrate the 5-year anniversary of our Executive Director's arrival at the organization. Samantha Nelson came to Boston By Foot in 2012 after previously working as the Director of Education and Public Programs for the Bostonian Society. Sam spent her undergraduate years right here in Boston, earning her BA in History from Boston University, before pursuing both an MPhil in History and an MBA in Nonprofit Management from the University of Glasgow and Simmons College, respectively.
Since coming to Boston By Foot, Sam has accomplished many tasks including strengthening the organization's community partnerships and helping to foster growth, both in number of tours offered and number of tourees reached. She has been an invaluable asset to BBF over her past five years at its helm, increasing the organization's stellar reputation and empowering its community of dedicated, passionate guides.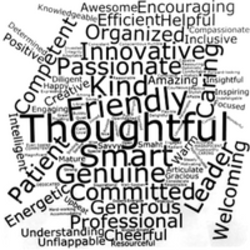 Boston By Foot volunteers came together and submitted words to describe Sam, which were then used to create a word cloud which was presented to her by the Board of Trustees. Terms such as thoughtful, passionate, and innovative were common submissions to describe such a visionary leader. In the words of Boston By Foot's founder, Polly Flansburgh, "Sam has worked to capture and nourished the joyful spirit of BBF!"
Join us in celebrating 3 cheers for Sam's 5 years at Boston By Foot!